Grand Children of Chacko Pallickamyalil
Details about the families of the four sons of Chacko Pallickamyalil, Ouseph, Varghese, Mathai and Poulose and daughters, Aleyamma and Annamma.
Sons of Ouseph (Kochu)
Ouseph's wife was from Thachukunnel family of Ezhallur. Her name could not be ascertained. The family moved from Elamdesom to Peravoor in Kannur district. They had four children.
The eldest son, Ambrose (Kunju), married from the Edathottil family. They have two sons, Joseph and John.
The second son, Joy, has two sons and a daughter.
Of the two daughters, the first, Kutty (Mariakutty), was married to George Pulikunnel, Perumballichira, and the youngest, Kunjamma, was married to Mathai Pedikkattukunnel, Vazhakkulam.
Sons of Varghese (Pappu)
Varghese married from the Parathazhathu family at Karimannur. (Both died in the nineties. They had lived the prime of their life in Elamdesom). They had eight children.
The eldest daughter, Mary, is married to Chacko Kaniyamattathil, Kakkur. Four of the sisters are nuns. Thressiamma is stationed at Ranchi in Bihar. The other two, Brijit and Philomina, are at the nunnery of the order of Mary of Nazreth at Edakkunnu. The other daughter, Sicily, is married to Jose Matheikal (Arakkuzha). The couple have settled down in Malabar.
The only surviving son, Sojan, married Alphonsa of Neerampuzha family at Kalloorkadu. They are now living near Potta in Thrissur district. They have three children, Tintumol, Teenamol and Tijo, all students.
Two of Pappu children, Josephina and Tomy died young.
Sons of Mathai (Mathachan)
Mathchan married Annamma, daughter of Chandy Punchathazhathu, Elamdesom. Both are no more.
Their only daughter, Mary, is married to Iypachan Thekkekunnel, Kadavoor. They have eight children.
Sons of Poulose (Paulochan)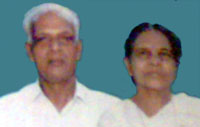 Poulose married Annakutty, daughter of Thomman Mathai of Nedumkallel family at Keerikode, Thodupuzha. He moved from Elamdesom to Malabar two decades ago and settled down at Thottumukkom in Kozhikode district. More than four decades ago, he had purchased about 500 acres of land in Malabar and planted it mostly with arecanut and coconut. (He has a good memory even at his old age now and supplied a substantial part of the information appearing in these pages). He died on January 2, 2003.

Details about his three sons and five daughters are listed below::
The eldest daughter, Baby, is married to Emmanuel of Meenattur family in Ernakulam.
The second daughter, Mary, is married to Baby of Njalamkunnel, Kadvaoor.
Mercy is married to John Monipallil, Avoli, and Celin to Vijayan (Abraham) of Padyattil family at Ankamali.
Lisa is married to Advocate Emmnnuel Abraham of Ettonnil family at Bharananganam, Pala.
The elder son, James married Valsamma, daughter of Devasia, Malyackel, Karimannur. They have two children, Juli (Annamma) and Juby (Poulose)
The second son, Wilson, married Reetha of Kochukaippayil family at Punnackal near Kozhikode. They have two children, Annamma and Shol (Poulose).
The youngest son, Thomas, married Tessamma, daughter of Thomas Chembanthottathil, Perambara. After her death, he married Daisy, daughter of Paily Srambickal, Karimannur. He has three children in the first marriage: Arunan (Poulose), Annamma (Stephy) and Thomas (Thankakuttan).
Aleyamma (Kunjupennu)
Aleykutty is married to Joseph, son of Mathew Nedumkallel, Karikode, Thodupuzha. They have five boys and three girls.

Annamma

Annamma is married to Mathai Varkey (Kunju Varkey) Chettur. They have a son, Chackochan.
---
(BACK)