Pallickamyalil Iype was among the people who took the initiative to set up the St. Mary's Church at Kalayamthani in 1917.
He along with Kallidukkil Ulahannan, Maleyekal Varkey and Kodimattathil Kuriacko registered the deed of purchase of four acres for the church in 1916. Later this land was transferred to Ernakulam diocese.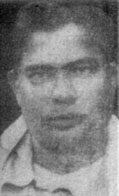 The Church became a reality only after owners of the nearby rubber estates put their weight behind the demand for the Church. Those who took the lead in this respect included planters, Nalpathamkalathil Kunjeria (Kunjeria represented Thodupuzha in the
Sree Moolam Popular Assembly
of Travancore in 1924) and Madathilakal Kunjeria.
The Travancore Government gave the permission to build the church on April 3, 1917 on the basis on an application filed by Fr. Poulose Mekkunnel and others at the office of the Dewan Peshkar in Kottayam. The parishioners were 24 families from a wide area consisting of Alakode and Velliyamattom villages and part (Meeenmutti and Chilavu) of Karikode and Karimanoor villages.