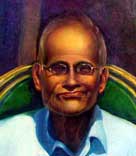 Grand Children of Paily Pallickamyalil (1894 -1983 A. D.)
Details about the sons of Paily Pallickamyalil -- Aley, Joseph, Mathew, Poulose, Nicholas, James and Jolly and their children. Poulose died young (Karkitakam 12, 1117 M. E.) . Paily, born on November 7, 1984, died on July 22, 1983 (A. D.).
Aley's family
Aley (Eli) was married to Joseph of Njavarakkad family at Paingottur. She had five children-- Papachan, Jose, Poulochan (died in 2007), Mary (she is no more) and Benti.
Joseph's family

Joseph (Kunjappu) married Annakutty of Kuzhikattumyalil family at Karimannoor, Thodupuzha. They have four sons and four daughters-- Joy, Leelamma, Valsamma, Mary, Baby, Sunny, Sabu and Annie.
Joy married to Mary, daughter of Scaria Kumbackal, Karukappally. They have settled down at Thottumukkom in Kozhikode district. They have three children-- Mini, Sini and Sinoy.
Leelamma (Sr. Leo MSJ) is working at the Little Flower Hospital, Ankamali.

Baby married Jessy, Kanjirakombil, Thottakkara, and has settled down at Thottakara. They have three children--Priya, Prince and Arun.
Valsamma is married to Joseph, son of Mathai Kuttipoovathungal, Areacode. Both are teachers and have two sons and a daugther (Jose, Mathew and Dhanya).

Mary is married to Jose Puthenpurayil, Ettumanoor. The couple have two children (Jomiya and Josy).

Sunny married Kochu Rani, daughter of Joseph Chacko Poonjolikunnel, Erumeli. He is the head of the Department of Zoology at St. Xaviers College, Kothavara. He has two daughters-- Ann Maria and Biya Maria.

Annie is married Sebastian Kuzhimattathil, Kottayam. Both are now working in South Africa. They have two children.

Sabu married Smitha from Nelloor in Andhra Pradesh. Both are in Bangalore and have two children-- Sunny and Chichumo.

Mathew's family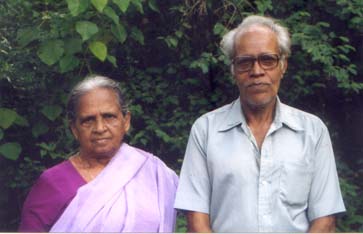 Mathew (Kunjoonju) married C. C. Mariam (Mariayakkutty) of Myladiyil family at Pannimattom who was a teacher (and later headmistress) at the St. Joseph's L. P. School, Pannimattom. Mathew brought forth two sons, Roy and Regi, and a daughter, Dinise. He died on April 12, 2010.

Roy, the elder son, married Ancy of Kulamkuthiyil family at Athirampuzha. The couple have two sons, Deepak and Anil.


Denise was married to Paul Cheeramkunnel, Ezhumuttom. They have a son (Dejo) and a daughter (Dinsey).


The youngest, Regi, married Jomol of Chavaniyankal family at Kurinji. They have a daughter, Reshma, and two sons, Mathew and Joseph, who are twins.
Nicholas' family
Nicholas (Kutty) married Mary, daughter of M. A. Thomas of Mannathu family, at Pala. Their's is a family of three sons and two daughters, Paul (Babu), Tom (Tomy), Lissy, Louis and Rosely. Nicholas died in 1998.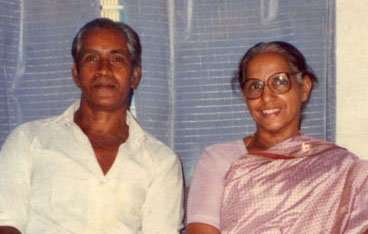 Paul, the elder son, is a marine engineer. He married the daughter of Chacko, Vettukallel, Carithas, Kottayam. Paul and Laila have two children-- Geetha and Kavitha. [Photo of the brothers]


Tom is a civil contractor and engineer, running a major construction company in the Gulf. His wife is Daisy is from Kuttiyara family at Kadavoor (daughter of Paul Kuttiyara). They have three children, Anu, Minu and Aby.


Louis is also working in the Gulf as an engineer. His wife, Valsamma, is daughter of Thomas Kizhakekara, Vettimattom, Thodupuzha. Their children are Nisha and Nichol.


Lissy is married to Mr. P. K. Davis, Padayattil House, Kanjoor. The couple have two children-- George and Nichol.


Rosely is married to K. D. Jose, Kanjirakkattuthottiyil, Champakkada. (Superintending Engineer, ONGC).
James' family
James (born on June 19, 1951) married Philomina, daughter of Varghese Pallikunnel, Ezhumuttom near Thodupuzha. They have four children--Jaicy, Jaison, Jince and Joice.

Jaisy is married to Jacob (Gigi or Chackochen) of Choriyamthadathil, Avoli, Vazhakkulam. They have three children-- Edvin Mathews Gigi, Jesvin Mathews Gigi and Diya Elizabeth Gigi.
Jaison married Shiji, daughter of Kuriakose Potthanamoozhi, Randar, Muvattupuzha. The couple have a two children, Joyal and Jophia.

Jince married Luxy, daughter of Georgekutty Naduvakkattu, Kappadu, Kanjirappally. Son: Fibin

Joice married Jiby daughter of Jose Thomas Poriyathu, Thodupuzha.East, on December 25, 2002. He is working as Director of Training of an IT Training Company in London, U. K. Children: Jessica, Jowan, James and Joseph.
Update: Joice James was ordained as the first deacon of Syro-Malabar Church by Major Archbishop George Cardinal Alencherry in Kochi on June 6, 2016.

Jolly's family
Jolly married Cicily (Thresya) from Mullakariyil family at Elamdesom near Thodupuzha.
The couple have two children-- Alwyn and Nikita.
---
April 2010

BACK